Cyprus, the island of Aphrodite, the goddess of love and beauty, has been inspiring romance since ancient times. Its beaches, mountains, vineyards, olive groves, and picturesque villages make it a truly enchanting location for couples wanting to declare their love. If a Cypriot wedding is your dream, here's a complete guide to help you plan a remarkable event.
Why choose Cyprus?
Cyprus presents an irresistible blend of scenic beauty, favorable weather, and historical charm. With its sunny climate, azure waters, and sandy beaches, it provides the perfect canvas for a romantic beach wedding. For the culturally inclined, traditional Cypriot villages, ancient ruins, and awe-inspiring churches serve as unique venues. The delicious Mediterranean cuisine, from meze to halloumi and the world-renowned Cypriot coffee, will treat your guests to a culinary journey they won't forget.
Legalities and Paperwork
Since 1923, Cyprus has recognized civil marriages, attracting couples from across the globe with its simplified marriage procedures. However, some legal formalities must be fulfilled:
Residency: At least one party should have resided in Cyprus for a minimum of three days before the wedding.
Documents: Both parties need to provide passports, full birth certificates, and a sworn affidavit or statutory declaration stating that they're free to marry. If applicable, divorce papers, death certificates of previous spouses, or name change documents must be presented.
Notice of Marriage: Once in Cyprus, couples must personally apply to the Marriage Officer of the Municipality of their choice. They are required to fill in, sign, and submit a joint application called "Notice of Marriage," indicating their intent to marry each other and containing their particulars based on their passport.
Declaration of Consent: Each party must declare on oath or affirmation before the Marriage Officer that there are no legal hindrances to their marriage, and all necessary consents for the marriage have been obtained or that no such consent is required.
Marital Status Certificate: An official certificate indicating the parties are not married should also be furnished. If the Marriage Officer doubts the certificate's accuracy or authenticity, or if the interested persons cannot produce such an official document, they are required to make a sworn declaration before the Registrar of a District Court that they are single and have never been married before.
Minors: If either party is under eighteen years old and not a widow or widower, they must provide written consent from their legal guardian.
Once these formalities have been completed, the marriage must be celebrated within 15 clear days at the earliest or within 3 months at the latest from the date the notice is given. For urgent cases, an earlier date can be fixed with advanced fees, allowing the marriage to be celebrated within 2-3 working days.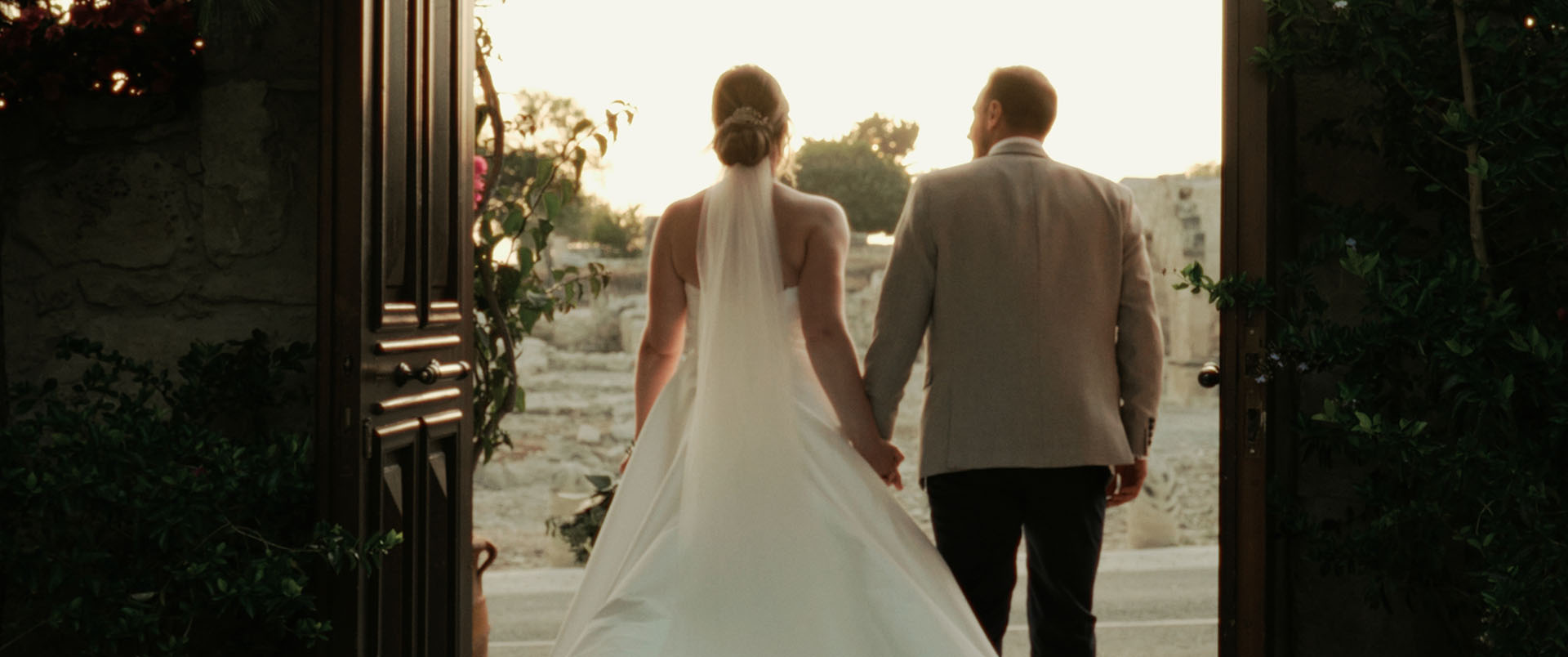 Wedding Venues in Cyprus
Cyprus has many options when it comes to wedding venues, from hotels, to vineyards and venues that specialise in providing complete wedding packages from ceremony to cocktail and dinner. So what are your options?
Types of Wedding Venues:
Beachside Resorts: Locations like Ayia Napa, Paphos, and Limassol are renowned for their stunning coastline, perfect for a beachside wedding. These towns have both hotels and wedding venues with stunning views that offer full wedding packages. 
Vineyards: From the Troodos Mountains to Omodos and Lefkara, vineyards offer a unique Cypriot ambiance and a breathtaking landscape for a rustic wedding.
Traditional Churches: For a religious ceremony, beautiful Orthodox and Anglican churches abound, such as St. Lazarus Church in Larnaca and Ayia Kyriaki Chrysopolitissa in Paphos.  A civil marriage may also be celebrated by a Registered Minister of Religion at his church after all the necessary procedures are followed at the municipality.
Wedding Venues: Since Cyprus is one of Europes most sought after wedding location it comes as no surprised that there are many venues that specialise in providing all inclusive weddings. From the stunning Seaview of Ktima Alassos in Paphos to Vasilias and Liopetro in Koulia, there is no shortage of high quality venues in Cyprus.
Planning your Wedding
Hiring a local wedding planner can help you navigate the process, manage suppliers, and ensure everything runs smoothly. Cyprus also has excellent photographers, florists, caterers, and entertainment providers to add a local flavourto your wedding.
Initially, determining your budget and understanding the legal requirements are essential first steps. Then, choose your dream venue from a wide array of beautiful locations, from beachside resorts, enchanting vineyards, historical sites, to traditional churches. Take the time to research and visit these venues if possible, ensuring they align with your vision and budget. 
Food and entertainment are key elements of your wedding, so ensure you choose caterers who can deliver a delicious Mediterranean feast and musicians or DJs to keep your guests entertained. Remember, your wedding is a reflection of your love story, so personalize your day to suit your style and enjoy the journey of planning your dream wedding in Cyprus.
Choosing Vendors:
Caterer: Great food can make your wedding memorable. Consider whether you want a formal sit-down meal, a buffet, or food stations.
Tip: Ask for a tasting session and discuss dietary requirements. Look for caterers with good reviews and a variety of menu options.
Photographer and Videographer: These vendors will capture your special day, providing you with lasting memories.
Tip: Look at portfolios to see if their style matches what you want. Discuss the list of must-have shots and their backup plan in case of emergencies.
Florist: From bouquets to centerpieces, flowers can add beauty to your day.
Tip: Choose a florist who understands your vision and can work with your budget. Discuss the types and colors of flowers you prefer.
Wedding Planner: They can help coordinate the details, take stress off you, and ensure everything runs smoothly.
Tip: Look for planners with good reviews, and ensure you have a comfortable rapport with them.
DJ or Band: Music sets the mood for your ceremony and reception.
Tip: Consider the kind of atmosphere you want when choosing between a DJ or a band. Ask to see them perform live before making your decision.
Cake Designer: Your wedding cake is a centerpiece of your reception and a traditional element of weddings.
Tip: Check portfolios, read reviews, and arrange a tasting. Make sure the designer can create a cake that fits your theme and satisfies your taste buds.
Hair and Makeup Artist: These professionals help you look and feel your best.
Tip: Do a trial run before the wedding day. Choose someone experienced in bridal styling who uses high-quality products.
Transportation: You'll need to arrange transportation for yourselves and possibly your guests.
Tip: Look for a reputable company that can provide comfortable and reliable transportation options.

Remember, communication is key when dealing with vendors. Clearly express your needs, expectations, and budget to ensure everyone is on the same page.
In conclusion, Cyprus offers a unique blend of stunning landscapes, historical charm, and Mediterranean weather, making it a perfect destination for couples looking to tie the knot. With the process being relatively simple, you can plan your special day with ease. Remember to abide by the necessary legal procedures to ensure a hassle-free experience. Venues like the Elysium Hotel in Paphos or The Four Seasons Hotel in Limassol provide exquisite settings for your ceremony. When planning your wedding, take into account budgeting, venue selection, guest list management, and incorporating local traditions. Essential aspects to note when marrying abroad include understanding the legalities, setting a budget, planning travel arrangements, and getting the necessary insurance. Your vendor selection, including venue, caterer, photographer, and florist, can significantly impact your day, so ensure you communicate your needs and expectations clearly to them. Your dream wedding in Cyprus can become a reality with careful planning, thorough research, and a sprinkle of love.